HO CHI MINH TRAIL MOTORBIKE TOUR IN 9 DAYS
Offroad Vietnam currently offers four different itineraries for Ho Chi Minh trail motorbike tours below. As a note, we can tailor it shorter or longer to work with your travel plan. Destination details are at the end of this page. On this page, you will find the most popular Ho Chi Minh Trail Motorbike Tour 9 Days. In fact, it's also the shortest but seems to fit well with most customers' timing.
Booking Codes
– 9 days (OV04)
– 11 days (OV41)
– 13 days (OV42)
– 16 days (OV45)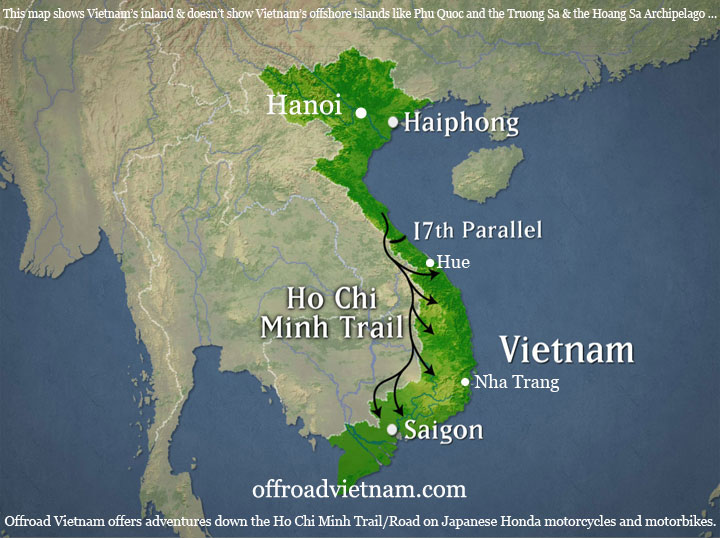 About Ho Chi Minh Trail Motorbike Tour In 9 Days
Many things were said about this trail/road, mostly about the war. The original trail was created in 1959 and served the war in 6,000 days. Offroad Vietnam invites you to venture down this road and see what the current trail/road looks like. Starting from Hanoi, we take you to the mountain in North Vietnam via Phu Yen and Mai Chau before heading down South. This offers the snaking mountain roads, hill tribe people customs, and traditions because it's hard to find in the Southern part of the country.
During the war, it is an important trail. Currently, it's an important road connecting Northern and Southern Vietnam. After two days in North Vietnam, we ride to Hoi An via Tan Ky, Phong Nha National Park, Dong Hoi, Khe Sanh Combat Base, and Hue former Imperial City. If you have more time, extend the trip on the second part of the Trail/Road all the way to Saigon via the Central Highlands (Kon Tum, Buon Ma Thuot, Dalat), Nha Trang, and Cat Tien National Park.
This is really an expedition through many provinces. In addition, you retrace some parts in the 2008 BBC Top Gear Vietnam Special show. However, we offer a real opportunity to experience Vietnam on two wheels beyond the Top Gear Vietnam show. Just tell us your time frame and we will get back with the best itinerary that works with your time frame.
Videos
To have some idea about Ho Chi Minh Trail tours by motorbike that our company provides, please watch the below video.
In case you want to watch more videos please check our YouTube channel.
Notes
Please note that Ho Chi Minh Trail/Road rides cost more than our standard rides as we have to pay the guide(s) and bikes back to Hanoi. In addition, food and hotel in South Vietnam cost more than in the Northern part. We also recommend you to bring your riding gear as if you rent all from us, our guide may not be able to carry them back to Hanoi. Therefore, a surcharge may be applied.
Ho Chi Minh Trail Motorbike Tour is the name of the trip, it doesn't mean we ride mainly on the old trail. In fact, the government already built a new highway on most of the original trail. However, we still have some parts on tracks and shortcuts that offer off-road riders a chance to test out their riding skills. The riding hours are longer than a Northern Vietnam trip. In addition, the scenery is not as beautiful as in North Vietnam. It's more about the Vietnam War!
HO CHI MINH TRAIL MOTORBIKE TOUR ITINERARY
(9 days, 8 nights)
Booking code Ho Chi Minh Trail Motorbike Tour 9 Days: OV04
Related Links
– route map
– photo gallery
– customer comments
– reference
– late availability
– vietnam information
Highlight
Ride participants are to make their own travel arrangements to Hanoi from their own country. We are happy to assist with hotel and transfer bookings in Hanoi where necessary. Once the tour finishes in Hoi An, ride participants are free to make their way further south or return to Hanoi. Once again, these arrangements are not included in the tour. However, we are happy to assist with bookings.
Ho Chi Minh Trail Motorbike Tour 9 Days Itinerary At A Glance
1st day: Hanoi – Phu Yen.
2nd day: Phu Yen – Mai Chau.
3rd day: Mai Chau – Tan Ky.
4th day: Tan Ky – Phong Nha.
5th day: Phong Nha – Dong Hoi.
6th day: Dong Hoi – Khe Sanh.
7th day: Khe Sanh – Hue.
8th day: Hue – Hoi An.
9th day: Hoi An.
Day 1: Hanoi – Phu Yen (165 km, ~6 hours riding)
Today is the first day of this Ho Chi Minh Trail Motorbike Tour in 9 days. To get out of Hanoi safely, we will have a short briefing to let you know about the rules. In addition, the guide will show you how to understand him by his body language. We start around 9.30 am after the rush hour.
Ride to Phu Yen on a country road with a stop in Son Tay. On November 20-21, 1970, a joint force composed of USAF Special Operations and rescue personnel and U.S. Army Special Forces, supported by U.S. Navy Carrier Task Force 77, made a daring raid on the Son Tay prison camp located less than 50 miles from Hanoi. The objective was to rescue as many as 100 U.S. captives thought to be held there. The assault troops, in six ARRS helicopters accompanied by two C-130 aircraft, flew 640km to Son Tay from bases in Thailand. U.S. Navy pilots made a diversionary raid while 116 USAF and Navy aircraft from seven air bases and three aircraft carriers flew refueling, surface-to-air missile suppression, fighter cover, close air support, early warning, communications support, and reconnaissance missions. However, there were no prisoners found in the camp.
After lunch, ride on the winding mountain road to Phu Yen to take in some of the best mountain views in Northwest Vietnam. Overnighting in a hotel. (L, D)
Day 2: Phu Yen – Mai Chau (145 km, 5 hours riding)
There are many small roads that lead to the mountains around Mai Chau so we'll take the chance to ride out to isolated H'mong, Dao, and Thai villages. Then you take on the challenge of an old road built by the French army and spend the afternoon exploring nearby villages. Overnight in a Thai ethnicity stilt house in Mai Chau. (B, L, D)
Day 3: Mai Chau – Tan Ky (290 km, 9 hours riding)
Ride on a small, spectacular, and paved trail along the Ma river until Cam Thuy town where we stop for lunch. Then hit the Ho Chi Minh trail (now a newly built highway) all the way to Tan Ky town where we spend the night in a hotel. (B, L, D)
Day 4: Tan Ky – Phong Nha (280 km, 8 hours riding)
Ride on Ho Chi Minh Highway until Pho Chau where we stop to visit the HCM Trail victory monument. In fact, this is the real starting point of the original Ho Chi Minh Trail.
Ride all the way to Phong Nha – Ke Bang, the biggest and also the most beautiful cave in Vietnam and Indochina. Currently, it's a UNESCO World Natural Heritage site. The karst formation of Phong Nha-Ke Bang National Park has evolved since the Paleozoic (some 400 million years ago) and so is the oldest major karst area in Asia. Subject to massive tectonic changes, the park's karst landscape is extremely complex with many geographic features of considerable significance. The vast area, extending to the border of the Lao People's Democratic Republic, contains spectacular formations including 65 km of caves and underground rivers. (B, L, D)
Day 5: Phong Nha – Dong Hoi (60 km, 2 hours riding)
Boating and exploring the World Heritage site of Phong Nha where local civilians and military sheltered from incessant bombing during wartime. Then we drive down to the coastal town of Dong Hoi, which was heavily shelled by US warships during the war. At a hotel overlooking the beach, we can take in some sunbathing by the beach. Overnight in Dong Hoi. (B, L, D)
Day 6: Dong Hoi – Khe Sanh (200 km, 6 hours riding)
We strike south through foothills that were once sprayed heavily by Agent Orange towards the former DMZ. In fact, there is still much evidence of bombing on the mountainsides. From time to time we will see remnants of the original Trail. Then we take in the Vinh Moc tunnel, the famous Hien Luong Bridge (former demarcation line between North and South Vietnam, the Truong Son Cemetery, and finally Khe Sanh (former US Marine base). Overnight in Khe Sanh. (B, L, D)
Day 7: Khe Sanh – Hue (180 km, 7 hours riding)
In the morning we head south over the Da Krong Bridge (built by the Cubans in 1973) into the infamous A Shau Valley, an area of intense wartime activity. Passing Hamburger Hill and mountains still barren due to the extended effects of Agent Orange, we arrive at A Luoi, where there are many Bru Van hill tribe people. Then cruise through green back country down the steep Me Oi Pass, we continue on to the beautiful city of Hue which lies along the banks of the Perfume River. Overnight in Hue. (B, L, D)
Day 8: Hue – Hoi An (145 km, 5 hours riding)
See the Forbidden Citadel in the morning. Then join the National Highway 1 and head up the Hai Van Pass (Cloudy Pass) before the World Heritage site of Hoi An, a major trading centre in SE Asia in the 16th and 17th centuries. Overnight in Hoi An. (B, L, D)
Day 9: Hoi An. Farewell lunch. End of Ho Chi Minh Trail Motorbike Tour.
Those who wish can ride up to My Khe beach, where US marines first landed. Otherwise, enjoy a free day to explore Hoi An on foot or by motorbike taxi. With fine wining and dining (including a range of Hoi An specialties), impressive architecture, fantastic tailoring, endless shopping, and a glorious beach, there is no shortage of activities to indulge in. After lunch, we will say goodbye and our guide flies back to Hanoi from Danang. End this Ho Chi Minh Trail Motorbike Tour 9 Days at noon. (B, L)
There are two options: Return to Hanoi by train or by air or go down South on your own.
B: Breakfast.
L: Lunch.
D: Dinner.
Contact us at [email protected] in case you want more details or options of our Ho Chi Minh trail rides.
More Typical Vietnam Motorbike Tours Itineraries
– Ha Giang & Northeast 8 days
– Ha Giang & Northeast 11 days
– Central North Roof Roads
– Northeast Vietnam
– Northwest Vietnam
– Big North Loop Of Vietnam
– Around Hanoi One Day
– Tours For Women Only
– South Vietnam Itinerary 1
– South Vietnam Itinerary 2
– Vespa Scooter Tours
– Custom Tours
…
– More itineraries

---
DESTINATION DETAILS
Phu Yen
A small town, ~170km Northwest of Hanoi. It's in the heart of the third-largest rice field in Northern Vietnam. In fact, the road from Hanoi to Son Tay is crowded, skirting along the Red River. On the other hand, the road from Son Tay to Phu Yen is quite scenic and quiet. It is one of the less travelled places in Northern Vietnam. As a result, the accommodation condition in Phu Yen is basic.
This is our first stop on this Ho Chi Minh Trail Motorbike Tour in 9 days.
Mai Chau
A Thai village in the Mai Chau district of Hoa Binh province. It's about 160km from Phu Yen. In the early 1990s Lac village is the first to open a homestay overnighting business. It became so popular that all surrounding villages stepped into this business. Therefore, Mai Chau becomes the largest home-staying complex in Northern Vietnam. Luckily, friendly people and great food make the night here very entertaining and enjoyable. You will stay in a stilt house, or pile dwelling which is made of bamboo and timber. A house is normally elevated 10-12 feet off the ground in order to avoid water damage and provide shelter for animals.
Tan Ky
A town in the west part of Nghe An province, ~400km South of Hanoi. It is a stop on the Ho Chi Minh Trail/Road. In fact, Km 0 is in this district where the original Ho Chi Minh trail starts. This is home to Kinh, Thai, and Tho people.
Phong Nha
Phong Nha – Ke Bang is a national park and UNESCO World Heritage Site in Bo Trach and Minh Hoa districts, Quang Binh province. This location is in central Vietnam, ~500 km south of Hanoi. The park was created to protect one of the world's two largest karst regions with 300 caves and grottoes. In addition, it also protects the ecosystem of limestone forests on the north-central coast of Vietnam.
Phong Nha holds several world cave records. It has the longest underground river, as well as the largest caverns and passageways. Son Doong is a relatively recently discovered cave in the national park. Found by a local man and explored and publicly announced by the British cave scientists of the British Cave Research Association. In reality, it is the largest cave in the world. A boat ride on the Son river is a good way to relax and take in the beautiful view of this park. However, a tour to discover this cave is very expensive. In addition, you must book very long in advance.
Dong Hoi
The capital city of Quang Binh province in central Vietnam. The city is on the old National Highway 1A. ~500km south of Hanoi. Dong Hoi has a 12km coastline with white sandy beaches such as Nhat Le, Da Nhay, and Ly Ho. During the Vietnam/American War, this was one of the most fierce battlefields.
Khe Sanh
The district capital of Huong Hoa district in Quang Tri province. Khe Sanh Combat Base is a war site, it was a United States Marine Corps outpost in South Vietnam. The airstrip was built in September 1962 and later Vietnamese Army rebuilt the old airstrip at Khe Sanh for courier flights into the south. As of 2009, Khe Sanh Combat Base is a museum where relics of the war are exhibited. Most of the former base is now overgrown by wilderness or coffee and banana plants and there is little trace of the war.
Hue
Between 1802 and 1945, it was the imperial capital of the Nguyen dynasty. During the Vietnam/American War, Hue became a central position between North Vietnam and South Vietnam. In the Tet Offensive of 1968, possibly the hardest fight, during the Battle of Hue the city suffered considerable damage. After the war, many of the historic features of Hue were neglected. Over the past 20 years, many historical areas of the city have been being restored. In fact, many people found Hue a bit boring but it is still a good stop.
Our ride ends at the train station after we load the bikes on the train in Danang. Thus from Danang to Hoi An, you take a taxi or minibus.
Hoi An
Also known as Faifo, a city on the coast of central Vietnam, in Quang Nam province. It is a UNESCO World Heritage Site. Hoi An Ancient Town is an exceptionally well-preserved example of a South-East Asian trading port dating from the 15th to the 19th century. The city served as the largest harbour in Southeast Asia in the 1st century. In fact, it was still an important port until the 17th century. The Pagoda Bridge is a unique covered structure built by the Japanese, the only known covered bridge with a Buddhist pagoda attached to one side.
All new hotels are moved to Cua Dai, not far away from the old city where you stay near the beach.
This is our last stop on this Ho Chi Minh Trail Motorbike Tour in 9 days.
Contact us at [email protected] for more details and options of this Ho Chi Minh Trail Motorbike Tour 9 Days in Vietnam.