VIETNAM MOTORCYCLE TOURS ROUTES
Offroad Vietnam Adventures has been providing amazing Vietnam motorcycle tours and reliable motorbike & scooter hire in Hanoi since late 2006. In fact, our business is 100% Vietnamese-owned and run, specializing in small group adventures on two wheels and 4×4 only. We are proud to be one of the oldest Vietnam motorbike tour operators still in business.
For Vietnam's Covid-19 updates, you can check at this link. In fact, our team is always available even during the lockdowns when Vietnam tourism is hard hit by this pandemic.
Many Vietnam motorbike tours between 2020 and early 2022 were cancelled or suspended. The good news is the Vietnamese border was officially open from March 15th 2022, so let's get ready and apply for a visa now! Things are back to normal here in Vietnam. 💪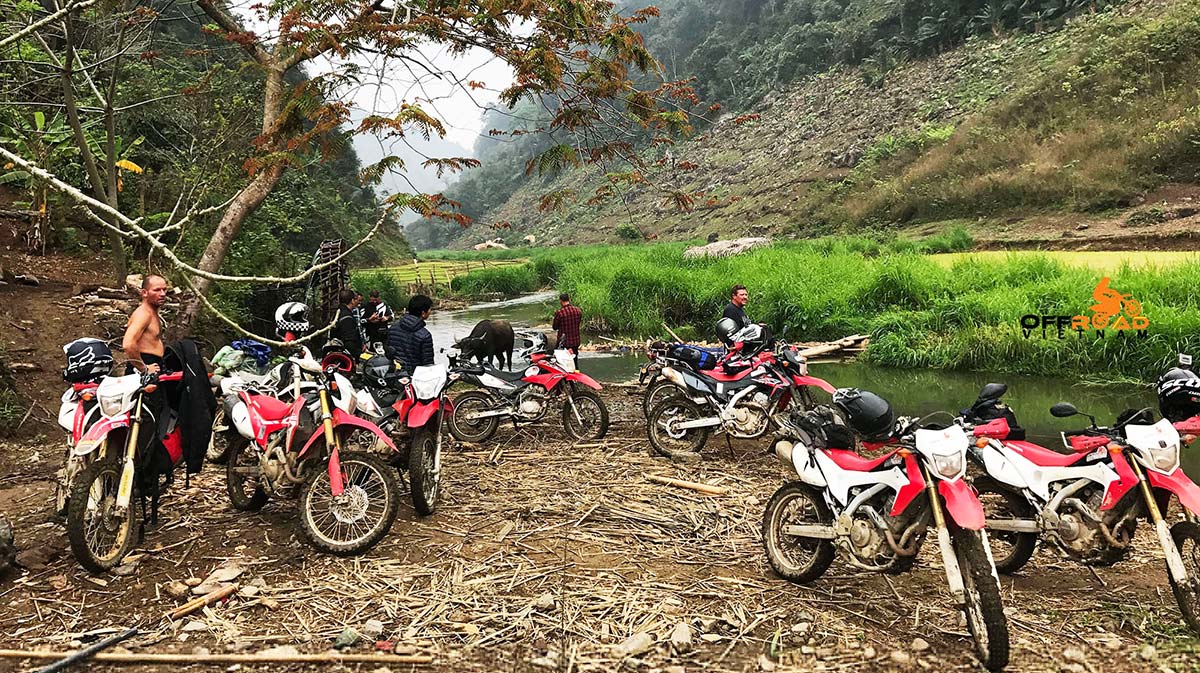 Offroad Vietnam is our trade name and trademark. However, it doesn't mean that we only ride off-road. On our Vietnam motorcycle tours, we ride on all types of roads, from sealed to secondary roads, tracks, trails, and footpaths. If you want more bumpy tracks, then think of Northern Vietnam.
After many years of organizing Vietnam motorcycle tours throughout the country, we designed a collection of motorcycle tours. We know that not all riders have the same riding ability. Therefore, just contact us, and together we will tailor-make a trip that works for every rider.
Our Vietnam motorbike tours are from just 1 day to say, as long as 30 days and they cater to different budgets and time you have. You can ride on or off-road based on your motorcycle riding skills. Below we will show you the most popular Vietnam motorbike routes for each area, from the North to the South of Vietnam.
NORTHERN VIETNAM MOTORCYCLE TOURS ROUTES

Ha Giang & Northeast Vietnam Dirtbike Adventures
Through the years, our most popular motorbike route is Ha Giang & Northeast Vietnam that you can explore in 8 days or in 11 days. Of course, the longer days you have the more you can see and ride more off-road. The people are authentic and friendly, and the surreal scenery. In fact, this area holds the attention of most dirt bike riders so much that they put it on their bucket list for Vietnam.
A few destinations on this trip are Phu Yen, Ta Xua dinosaur backbone, Mu Cang Chai terraced rice fields, Sapa hill station, Ha Giang, Dong Van GeoPark, Cao Bang, Ban Gioc waterfalls, and Ba Be & Thac Ba lakes.
Central North (Roof Roads) Vietnam Motorbike Rides
This is probably a good itinerary if you have less than a week and still want a typical experience Vietnam has to offer. This loop has great scenery, nice hill tribal people, scenic mountain roads, and challenging tracks. We call it Central North Roof Roads because of the highest point of Indochina (Fansipan top). Allow 5 days for a good ride and you can do it one day shorter or longer based on your timing and a day off around Sapa is recommended.
On this dirtbike trip, the highlights include Phu Yen, Ta Xua dinosaur backbone, Mu Cang Chai terraced rice fields, Sapa hill station, and Thac Ba lake.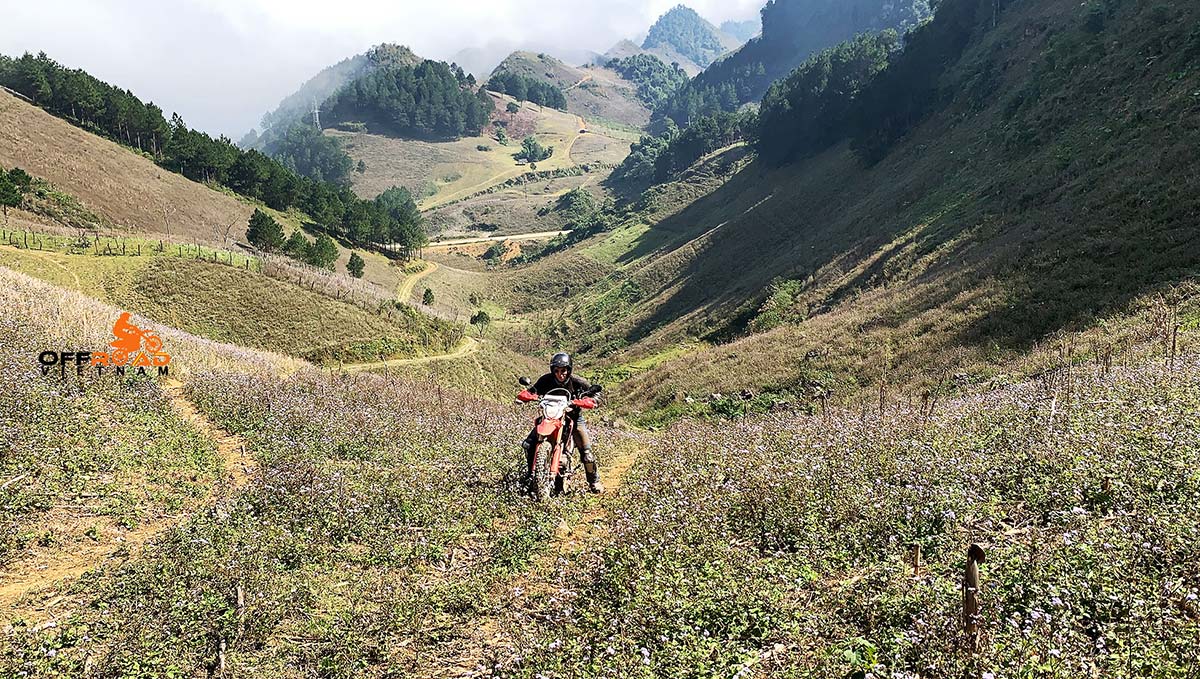 North-East Vietnam Dirt Bike Trips
This is simply a beautiful area and home to many hill tribal groups and is famous for the war against the French army (Highway 4). In addition, Ban Gioc waterfalls and many stunning mountain passes make it a top choice of tours by off-road motorbike in Northern Vietnam. We suggest spending 7 days on a well-paced trip.
North-West Vietnam Motorcycle Holidays
This part of Vietnam is a lesser-ridden area in Northern Vietnam. It used to be quite scenic and challenging. However, with the new roads and hydroelectric plants, things changed. In fact, you can find many different groups of people living in this part of Vietnam, probably more than any other area in the country. Please allow 10 days to have a good loop that includes Phu Yen, Mau Chau, Dien Bien Phu, Muong Lay, Lai Chau, Sapa, and Thac Ba lake.
Vietnam Big Northern Loop By Off-road Motorbikes
As the name suggests, it covers almost all of the above routes and you need at least 16 days to have a good itinerary. In fact, more days can be added if you want a more relaxing pace.
There are many amazing destinations in the Northern parts of Vietnam for dirtbike riding. Just let us know your expectation and together we will tailor-make the best itinerary for YOU.
Weekend Motorcycle Trips In Two Days
This is popular among foreigners working in Vietnam or travellers who don't have many days for the longer loops above. In just two days, we created a few options that work with different riding skills and weather conditions. If you want to take it easy, choose a ride to Mai Chau, and if you push it to a higher level, pick up Ta Xua Dinosaur Spine. Whatever you want, we can tailor a motorbike route that fits your plan!
One-Day Motorbike Rides Around Hanoi
In reality, many riders don't have too many days in Vietnam. Some have to work during the week and can only take a day to ride. Luckily, with our great and professional team, we can show you a full day motorbike ride around Hanoi in just one day. There are a few places we could ride and it all depends on your skills and preference. In fact, the most popular destinations are Bavi & Duong Lam, Ninh Binh, Perfume Pagoda, or many traditional villages near Hanoi.
In case you like taking amazing photos, we designed a day trip to Tam Dao, the highest summit around Hanoi.
In Hanoi, we are one of the first to offer this special package to female riders who prefer to ride at a slower pace, ride shorter than average, or just don't want in a very big group. Our first ride back in 2006 was for two Russian girls who really like our ideas. However, as the female riders are not as many as male riders, this kind of tour is only provided as private and personally tailor-made.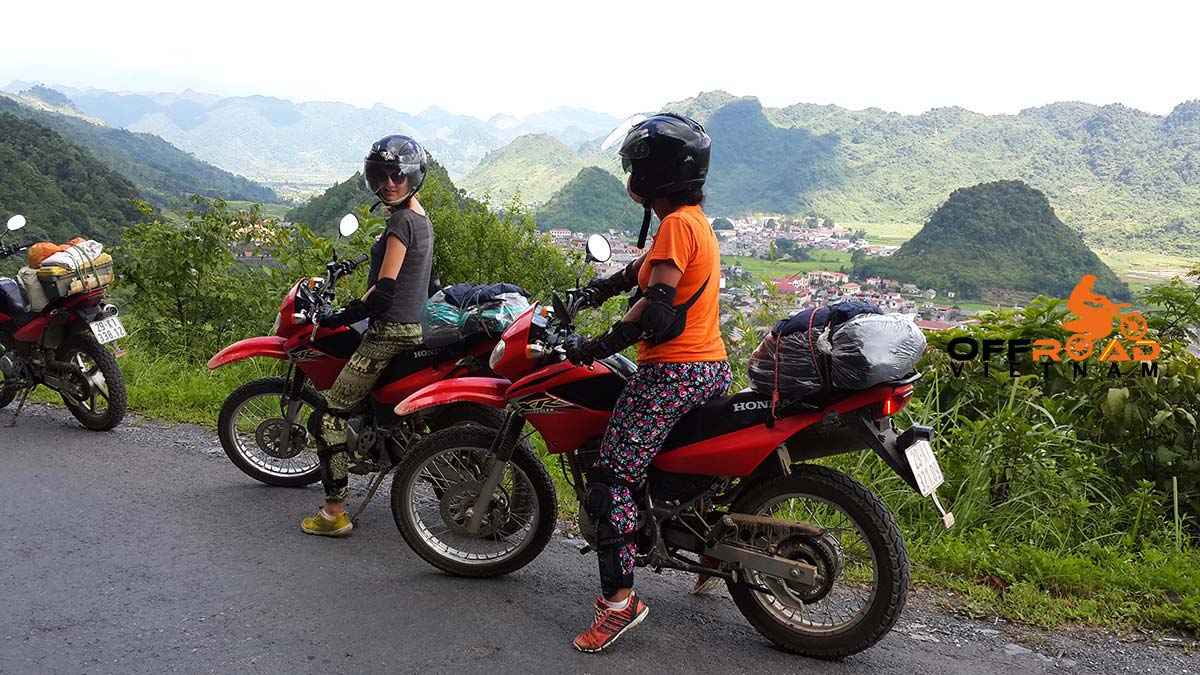 This is the most demanding and challenging type of motorbike tour we offer. Get out of your normal way and do it the way you like. Nothing is planned ahead and there will be many new routes after each tour. As this is a flexible option, there is no limit on days, people, or riding hours per day. However, we prefer NOT to ride in the dark because it's not safe with the high beam from cars.
HO CHI MINH TRAIL/ROAD MOTORBIKE VOYAGES
A motorbike voyage from Hanoi down to the South of Vietnam can be the best way to completely discover a motorbike nation. You ride through various provinces, meet different groups of people, and taste different food. Basically, we follow the historical Ho Chi Minh Road/Trail which is famous during the Vietnam War.
Two things you may need to take into consideration. They are the less hilly roads and the tour price is a bit higher due to the fact that we have to send the bike(s) and pay our guide the travel back to base (Hanoi office). However, you can end your adventure anywhere on the road. Below are a few popular routes.
– Ho Chi Minh Trail/Road in 9 days
– Motorbiking Ho Chi Minh Trail/Road in 11 days
– Motorcycling Ho Chi Minh Trail/Road in 13 days
– Venturing Ho Chi Minh Trail/Road in 16 days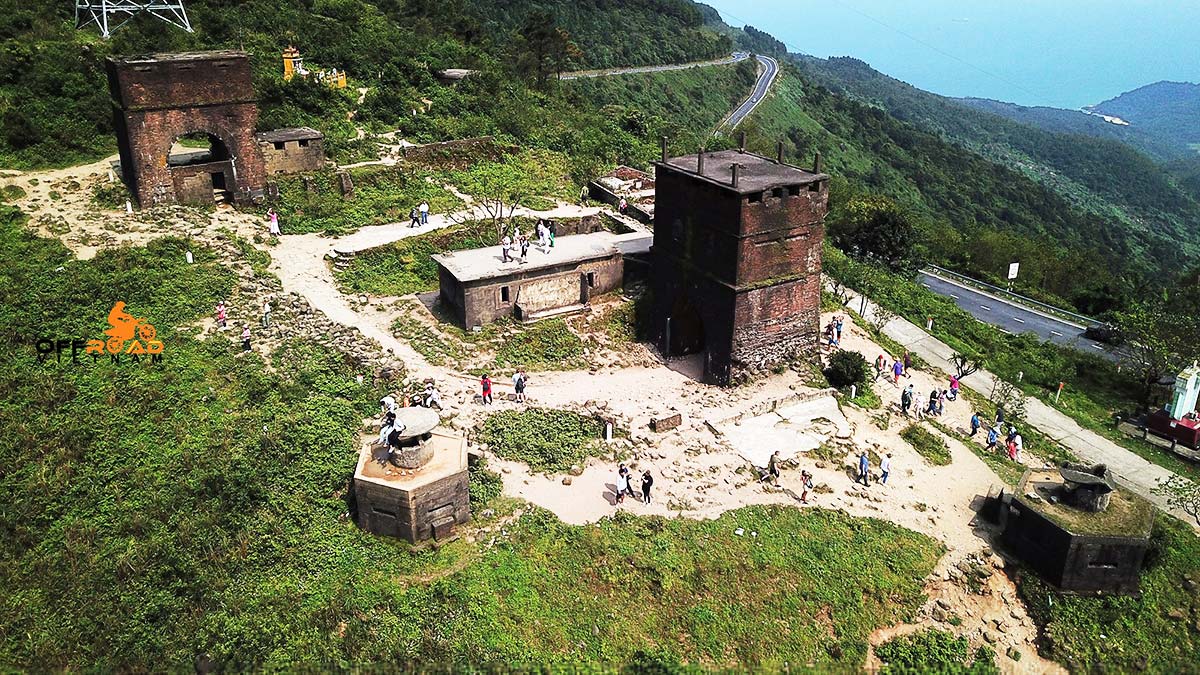 SOUTHERN VIETNAM MOTORCYCLE TOURS ROUTES
In fact, we have only one office in Hanoi, Northern Vietnam. Therefore, we have no tour that starts from outside of Hanoi. The below Vietnam motorbike routes are from one of our partners down in Saigon.
– 5 days Central Highlands
– 7 days Mekong Delta
– 12 days scooter tour
VIETNAM MOTORBIKE TOURS OPTIONS
When planning, many people think a Vietnam trail bike tour is easy to organize. In fact, this is not true if you want a safe outdoor adventure away from the tourist trails. There are so many things to prepare like bikes, riding gear, luggage, and insurance, etc. and other logistics. In reality, it's not as simple as sitting in a car enjoying Vietnam through windows. It's a game of coming back in one piece!
Honestly, Offroad Vietnam doesn't offer the cheapest prices in Hanoi. We focus on safety, comfort, quality of services, and customers' experience and satisfaction. In general, we don't offer cheap backpacker standards or lower quality of services in exchange for promotion or press coverage.
Below are three different types of Vietnam motorcycle tours we offer, from unguided to fully guided.
FULLY GUIDED VIETNAM MOTORCYCLE TOURS
For beginners, novice, intermediate and experienced riders. It's not just a tour or an adventure, but a fascinating motorcycle journey! To date, this is the most popular type of tours we have been providing.
We choose the best places to eat, comfy hotels or homestays to sleep in, and good services wherever we ride. With us, you will be able to pick up better services than when you are on your own. There is no point in saving some small cash in exchange for lower standards of services!
SEMI-GUIDED VIETNAM MOTORCYCLE TOURS
Basically, it's bike(s) & an English-speaking guide rental. Forget about bike service, price negotiation, timing, and routes. Just let us handle them for you and ride at whatever tempo you want. In other words, you have total flexibility to stop, eat, and sleep wherever you want. You pay as you go. However, last-minute deals can be cheaper (low season) or more expensive (high season).
SELF-GUIDED VIETNAM MOTORBIKE TOURS
This option of a trail bike tour is the best when you are looking for a new adventure away from the norm. However, you need to have good riding skills and are able to handle things on your own. If you have limited riding experience then this is not for you. Saving or losing money is on you.
We provide reliable bikes, a tool kit, spare parts, expert advice, comments, and useful tips for you. In other words, we don't just rent bike(s) but will assist you along the way. You have our support on the phone while you are on the trip to help explain to the local mechanics, hotels, restaurants, and Vietnamese people. We speak fluent English and Vietnamese and won't waste any second of your time. While riding, we are with you the whole way. This is very important for your self-guided motorcycle tours in Vietnam.
Honestly, you cover Vietnam less than the two packages above. Some people even try to save money by using very cheap hotels and food. However, this makes the riding even harder after long riding hours and some even had food poisoning!
Guided or unguided?
Instead of a conclusion, we pass on one of our customers' words: "If this is your first visit to Vietnam, take a guide with you, the help you get is invaluable and chances are he'll save you money when it comes to bartering when you go shopping as well as helping you to get to know the people. Vietnam is a different world, it's a beautiful country filled with the happiest friendliest most helpful people I have ever come across. However, it's different, different in a pleasant way and you'll need help coping with that difference."
VIDEOS
Many of our clients posted video clips of their Vietnam motorcycle tours with us on the Internet. In fact, this is the best way to show you what our Vietnam motorcycle tours look like. If you want more details please follow this link. You can also watch more Vietnam motorcycle tours videos directly on our YouTube channel. Enjoy watching!
To have an idea of what we can show you more on a guided tour, please watch the below video.
OUR FLEET OF JAPANESE HONDA MOTORBIKES
Honda, simply, means "motorbike" in Vietnamese. In other words, this tells how much Vietnamese people love and trust Honda bikes.
OFF-ROAD & TOURING MOTORBIKES
For long trips, we provide off-road motorbikes, touring motorcycles, and safety riding gear. They are in good condition. By far, we only use Japanese Honda 150-300cc (year 2017-2022) like Honda CRF300L, CRF250L, XR150L, and Winner / Winner X 150cc.
SCOOTERS
For commuting in and around Hanoi, most expats would consider hiring semi-automatic scooters and fully automatic scooters. These Honda scooters are new or near–new (usually less than 40,000km odo and/or under 6 years old). However, they are not comfortable with long-distance rides. The current fleet includes Honda manual clutch Winner / Winner X 150cc, fully automatic Honda SH Mode 125cc, PCX 125cc, Lead 125cc, Air Blade 125cc, and Vision 110cc, and semi-automatic Honda Wave RSX 110cc, Wave Alpha 110cc, and Blade 110cc.
50CC SMALL SCOOTERS
We also care about licence if you want to play it safe by renting 50cc scooters which require no license at all. These are near new Taiwan-made SYM Elite & Elegant.
To know which motorbike/scooter is the best for you, please watch the below video.
Note: In reality, none of our bikes is ideal for riding two-up because of the small and skinny seat. Honestly, you need bigger bikes but due to 120% taxes, this is hard at the moment.
USED MOTORBIKES FOR SALE IN HANOI
In reality, Honda is the most reliable brand on the market. You can simply look at the traffic stoplights and realize at least 80% of bikes is Honda.
Therefore, buying a Honda would be the safest bet because many mechanics have parts and knowledge of Honda bikes and it is not prone to break down. To check the current bikes for sale from our company, please click here.
Ridiculously, the most popular bike used or bought by tourists to Vietnam is a Chinese copy of the Honda Win (they cheat you by just say Honda Win). The only thing that makes it popular is the low price. There is nothing to say about safety, performance, or reliability from this bike. If you want to know more then check out this page. Note that we never use, offer, provide, or recommend this kind of bike.
You come this far but still have specific questions about our Vietnam motorcycle tours and rentals in Hanoi, feel free to contact us for more details. Alternatively, drop by our office and have a chat or share your experiences with us or simply have a look at our daily repair works.