NORTH WEST 11 DAYS LOOP MOTORBIKE TOUR OF VIETNAM

11 days, 10 nights – North West 11 days loop motorbike tour.
Booking code of North West 11 Days Loop Motorbike Tour:
NW1102
The video below has some portions of this North West 11 days loop motorbike tour. In case you want to watch more videos of our Vietnam motorbike tours please check our YouTube channel.
Trip Itinerary
Day 1:

Hanoi – Vu Linh. ~180 km, ~7 h.
Today is the first day of this North West 11 days loop motorbike tour. Before starting to ride, we will have a short briefing to let you know about the rules. In addition, the guide will show you how to understand him by his body language. We start around 9.30am after the rush hour.
Easy ride to on the sealed road to Thac Ba Lake and then follow the little road to Vu Linh. Vu Linh is a Dzao village by the side of the lake, very friendly people and the welcome is exceptional.
Day 2:

Vu Linh – Luc Yen. ~70 km, ~ 2 h.
Walk around in Vu Linh to discover the area in the morning. Lunch in Mr. Boi's family. Then ride to Luc Yen in about 2 hours around the lake on a small road lined with palm trees and scenic mountain views.
Day 3:

Luc Yen – Bac Ha. ~130 km, ~5 h.
In fact, the 20-km drive from Luc Yen to Road 70 is quite bumpy and takes about one hour. Then sealed road again all the way to Pac Ngam, where we turn right and drive up the mountain 26 km to Bac Ha. Finally, walk around Bac Ha for the rest of the day.
Day 4:

Bac Ha – Sapa – Xin Chai Village. ~80 km, ~4 h.
In fact, today is a beautiful ride at a slow pace up to Sapa. Lunch on the trek. A cook and a porter are ready to join us for the 3-day trek to different villages. We go to Thanh Phu village by jeep (30 km, ~2 hours). From Thanh Phu, we walk for 4 hours, with a 2-hour stop for lunch in between, to Xin Chai village where we meet Dzao people.
Day 5:

Sapa. Trekking. ~20 km.
Change the valley from Xin Chai to Nam Khen village (Xa Pho people) in 7 hours walking with a picnic lunch. We provide mattress (small), sheets, blankets, and mosquito nets to sleep in a family house in Nam Khen.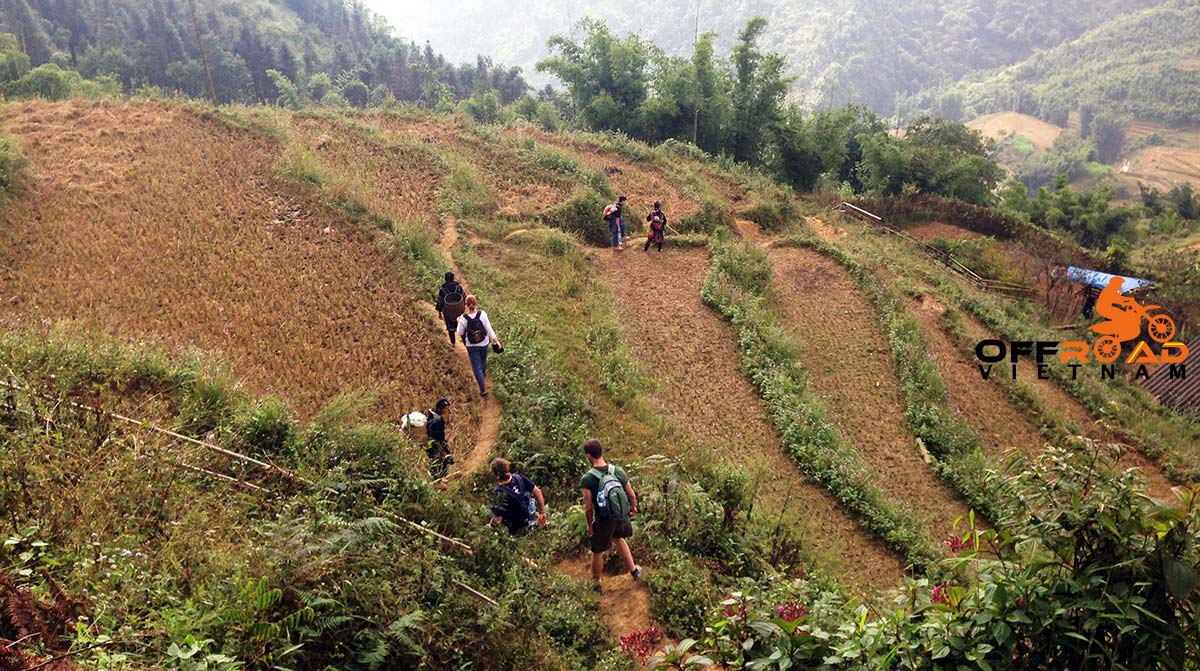 Day 6:

Sapa. Trekking. ~10 km.
From Nam Khen, we walk to Ban Ho in 4 hours. Then have lunch in Ban Ho. Swimming on the clear river if the weather is nice. Finally, return to Sapa by jeep and check-in Cat Cat Hotel.
Day 7:

Sapa – Lai Chau. ~100 km, ~5 h.
Walk back to Sapa in the morning to pick up the bike and drive to Lai Chau. The distance is short but the road is narrow and lots of blind corners. However, the landscape is very beautiful with the view of Fansipan Mount.
Day 8:

Lai Chau – Muong Lay. ~150 km, ~6 h.
We meet Tay, Thai, H'mong, and Mang peoples. You ride through Tam Duong plain which is covered in shark's teeth-like limestone karst. We would visit the village of Mang people near Sin Ho.
Day 9:

Lai Chau – Son La. ~200 km, ~7 h.
There are 15 passes in total. In reality, you ride on a very nice road with a stunning landscape. Probably the most beautiful journey of the whole trip even the road is in poor condition. Sleep in a hotel.
Day 10:

Son La – Mai Chau. ~180 km, ~7 h.
We follow a long valley floor covered in a sea of rice surrounded by Black Thai villages with its bargain-filled market, descending into a mountainous tea-growing region and head down into a forested region populated by H'mong people before descending into the hidden valley of Mai Chau where we spend the night with friends in a traditional Thai stilt house.
Day 11:

Mai Chau – Hanoi. ~165 km, ~5 h. End of North West 11 Days Loop Motorbike Tour.
Trek around Mai Chau in the morning. Then have lunch in Mai Chau before riding back to Hanoi on karst road via Hoa Binh to Hanoi.
We try to arrive in Hanoi before 5pm to avoid rush hours. Otherwise, you should be good with city traffic from the experience you got over the last days.
Contact us now to book this tour or to know about different itineraries and options of this North West 11 days loop motorbike tour in Vietnam.
Related Links
– photo gallery
– customer comments
– reference
– late availability
– planning your trip
For more motorbike tours itineraries in Vietnam, please follow this link.