Mr Bob McWhorter Recommended Offroad Vietnam To Lonely Planet Travel Guide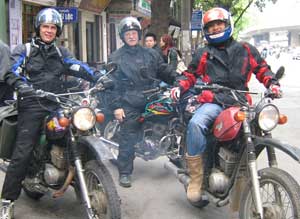 —– Original Message —–
From: Mr Bob McWhorter
To: talk2us@lonelyplanet.com.au
Cc: admin@offroadvietnam.com
Sent: Wednesday, July 18, 2007 11:34 AM
Subject: Motorcycle Tour Review – Offroad Vietnam
Greetings,
I am writing to give you my impressions of the company in Hanoi called Offroad Vietnam.
I went on a 7 day Motorbike ride to nw vietnam thru the mountains all the way up to China, from Hanoi. Anh Wu setup all the accomodations and everything was planned out for me including airport pickup and dropoff. The hotels and food was excellent and so was both Anh Wu and our tour guide, Ngoc. This was truly and adventure of a lifetime, and an excellent tour company.
The whole trip was great and I plan on going back soon.
Bob McWhorter.
To read more recommendation about Offroad Vietnam service, please follow this link.