2012 HONDA NC700X FOR SALE IN HANOI. REAL DISPLACEMENT: 670CC. STATUS: SOLD, NOT AVAILABLE
This Honda NC700X for sale in Hanoi is from a friend, not our own bike.
2012 Honda NC700X For Sale In Hanoi
This 2012 Honda NC700X for sale in Hanoi was a 2012 model from Japan, twin cylinders, 6 speeds, 240kg, front and back disc brakes, and delivers 51.1 HP. The wheels come with 17″ front and back and large tires which make potholes as smooth as highways. It's a white colour version. The engine is original. Some upgrades include near new rear tire, frame slider, cooler protector, handlebar heater, support LED lights, extended luggage rack, and few other small items. The price is 7,630$US. This bike comes with papers. Available for pick up now, in Hanoi only.
The 2012 Honda NC700X for sale in Hanoi crossover offers the long-travel suspension, agility, and commanding riding position of a light off-road bike in an overall package with high standards of stability, braking, and engine performance. It promises a fun, engaging riding experience together with the practicality and ease of use that make it a machine eminently suitable for daily commuting.
At the heart of the Honda NC700X for sale in Hanoi is a purpose-built engine and transmission package. The liquid-cooled, in-line 2-cylinder 670cc engine is a lightweight and compact unit with a low centre of gravity. It offers a very usable power delivery with strong levels of torque at low to medium rpm combined with low exhaust gas emissions and outstanding fuel economy (from our experience, on average 4.5l/100km).
The NC700X comes with secure internal storage space large enough to accommodate a full-face helmet. This compartment is where you would typically find the fuel tanks. It also comes with Honda's Combined Anti-Lock Braking System (C-ABS) as an option. It offers the practicality of a commuter with easy handling in a crossover styling.
Innovative two-cylinder engine
Developed to provide responsive power and strong torque in a compact package, the new 670cc inline two-cylinder engine also meets the demands of today's environmental concerns by being highly fuel-efficient for a tank range of nearly 300km.
Versatility and practicality
With its internal storage compartment, protective fairing, and windscreen, and commanding riding position, the NC700X is ready for anything, whether city or long-distance riding.
Joyous and intuitive handling
Light in weight, pure and swift in its handling responses, the Honda NC700X for sale in Hanoi is fun and also easy to handle. Using the same rigid and compact steel diamond frame as the NC700S, the NC700X uses its own unique suspension package to deliver a supremely adaptable chassis.
Crossover styling
The NC700X has a rugged adaptable styling suggestive of its limitless usability.
Secure C-ABS braking
The combined Antilock Braking System (C-ABS) is offered as standard on the NC700X.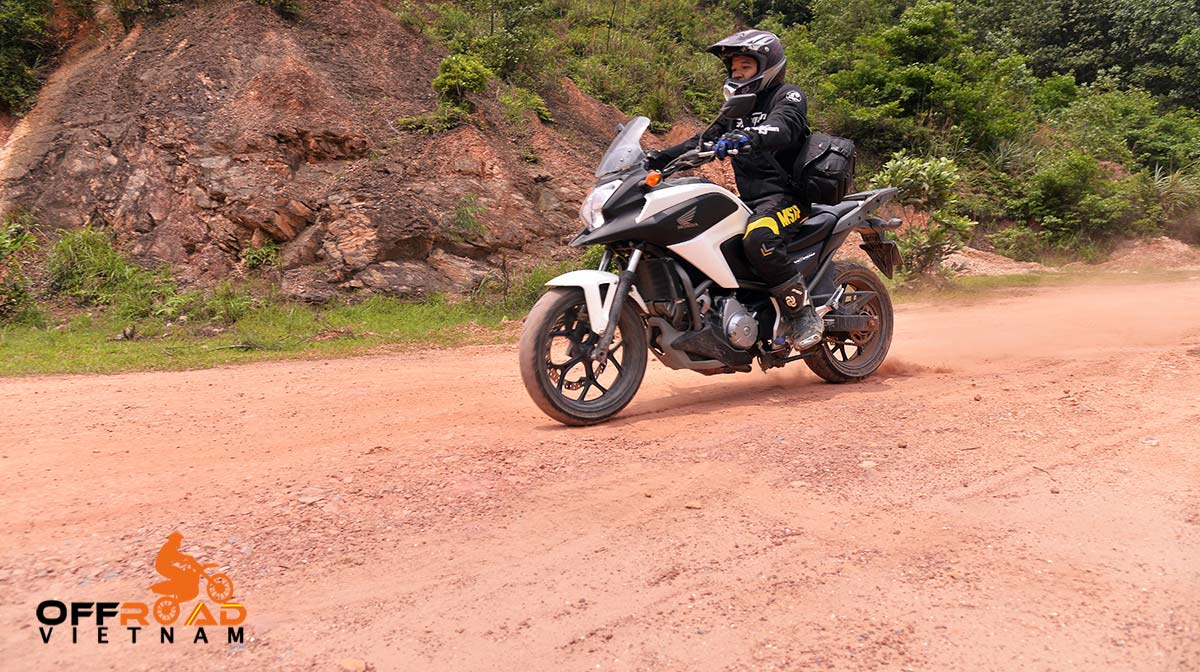 Some people asked us to buy a bike as a project bike, sadly we don't sell bikes this way. We just sell the whole bike and you can do whatever after purchase.
FYI, bikes above 125cc come with 120% taxes in Vietnam. Therefore, expect to pay around 2 times for the same bike like in your home country. For example, a new 250cc Honda CRF250L (same displacement like XR250 Baja) costs over 10,000$US in Hanoi, with papers. However, in Thailand where the CRF250L was made the price is just 4,200$US. The newer Honda NC750X 2016 model costs as much as 25,000$US! So don't expect cheap prices when you look for a real iron horse!
You can come, check, and ride test the bikes anytime between 8am and 12pm and 2pm to 5pm between Monday and Saturday. We are closed on Sunday.
Why Buy Honda NC700X For Sale In Hanoi?
There are only a few of these 670cc sport adventure touring bikes you could find in Hanoi. Below are a few reasons why you should buy our bikes:
– We are honest about bike conditions and provide a repair history.
– Owned and serviced by a team of more than 10 years riding these bikes.
– Come with blue card registration papers.
– Customized and fine-tuned for long-distance touring.
– Assistance when you need help on the road.
Sorry, this bike was sold.
For a full list of second-hand or used motorbikes, motorcycles and scooters Offroad Vietnam Adventure Travel sold or are selling in Hanoi, Vietnam, please follow this link.