HONDA SUPER CUB 50CC HIRE IN HANOI



(Monthly rate: 45 USD/30 days. Daily rate: 10$US/day). This Honda Super Cub 50cc was discontinued in early 2016 due to age and low power. Take a deep breath, from early 2019 we provide the near-new Taiwanese SYM motorbikes and scooters, click here for more details.
The Honda Super Cub, in its various versions C100, C50, C70, C90, C100EX, C70 Passport, and more, is a Honda under-bone motorcycle with a four-stroke single-cylinder engine ranging in displacement from 49 to 109 cc (3.0 to 6.7 cu in). Having been in continuous manufacture since 1958, with production surpassing 70 million, the Super Cub is the most produced motor vehicle in history.
In fact, needless to say, more about this world's best seller motorbike. Figures say it all.
Our 1991 Honda Super Cub 50cc comes with a new over-bore 70cc kit and delivers more power than the original 50cc engine. The electric system is 12V, CDI ignition which is still present till current models. Front and back drum brakes. Refurbished in late 2014, currently in great condition. We installed stronger rear suspensions and a new battery, tires, rims, and a new front white leg shield (leg guard).
In reality, there is no need to have a driving license for this Super Cub. Some of our customers choose this small bike partly because it's a legend and more about license requirements.
The monthly rate has a limit of a maximum of 1,500km/month and you ride in or near Hanoi. The daily rate has no mileage limit and you can ride anywhere you want, usually for beginners or novice riders on long trips outside of Hanoi.
Important for Honda Super Cub 50cc
– This Honda Super Cub 50cc is not really suitable for riding two up on one bike because of the low HP, seat, and luggage added. Ideally, riding solo is the best option. If you have to ride two-up, relax often and don't ride long every day, especially after dark or on rainy days.
– We are based in Hanoi, Northern Vietnam only and unfortunately we don't offer bike hire outside of Hanoi nor one-way rental. Sadly, we have nobody to recommend because we don't know their bikes or quality of services.
1991 JAPANESE HONDA SUPER CUB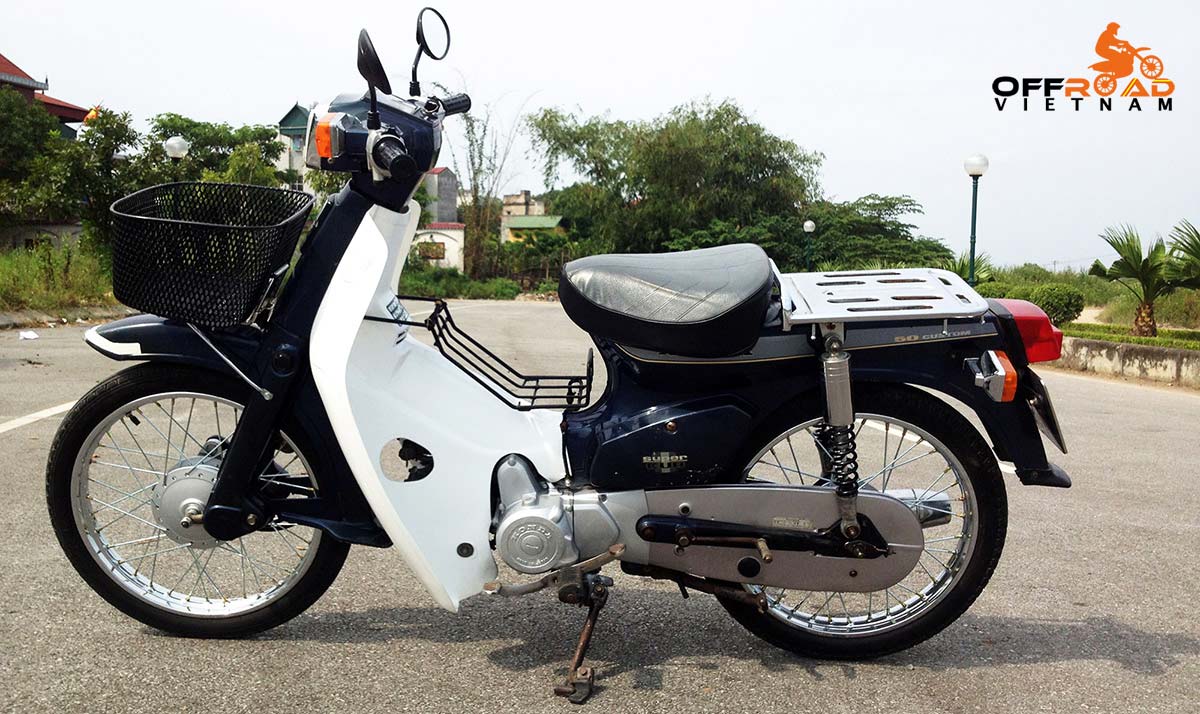 2017 CHINESE COPY OF HONDA SUPER CUB



1991 Honda Super Cub 50cc – 70cc Specifications
| | |
| --- | --- |
| Curb weight | 69 kg (152 lb) |
| Overall length x width x height | 1,800 mm (70.7 in) x 640 mm (25.2 in) x 760 mm (29.9 in) |
| Wheelbase | 1,180 mm (46.6 in) |
| Tires (front/rear) | 2.25″ x 17″/2.25″ x 17″ |
| Top speed | 60km/h. Warning from 35km/h. |
| Seat height | 760 mm (29.9 in) |
| Min-ground clearance | 130 mm |
| Fuel tank capacity | 3.0l (0.79 US gal) |
| Engine oil capacity | 0.8 litre when dismantling machine; 0.6 litre when changing the lubricant |
| Front suspension | Leading link 56 mm (2.2 in) travel |
| Rear suspension | Swingarm 61 mm (2.4 in) travel |
| Engine type | Gasoline, 04-stroke, single, air-cooled |
| Displacement | 71.8 cc (4.38 cu in) |
| Bore stroke | 47 mm × 41.4 mm (1.85 in × 1.63 in) |
| Compression ratio | 8.8:1 |
| Max. output / rpm | 4.5 kW (6 bhp) @ 9,000rpm |
| Max. torque / rpm | 0.53 kg·m (5.2 N·m; 3.8 lbf·ft) @ 7000 rpm |
| Gearbox | Manual, 4-step rotary system |
| Starting system | Electric/kick starter |
If you want to know more about our Honda semi-automatic scooters available for rental in Hanoi just follow this link.
Sorry, this model was discontinued in early 2016. It is not available for rent anymore.
Alternative options for Honda Super Cub 50cc
To know which motorbike/scooter is the best for you at the moment rather than Honda Super Cub 50cc, please watch the below video. For more videos, you can visit our YouTube channel.